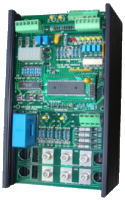 AC aux supply, Isolated AC stack supply – DC output.
Single phase digital secondary control
The Digicon8 provides accurate power control for a wide range of industrial, single phase DC loads. By using either an analogue or digital setpoint, the Digicon8 can be used for the precise control of power in loads that would otherwise prove difficult to regulate accurately.
Applications: